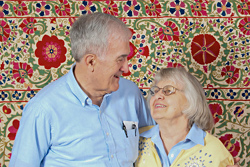 Author, Russell S. Fling
Russell S. Fling graduated from Ohio State University with a degree in architectural engineering. As owner of a consulting, structural-engineering firm, he and his office designed many buildings and industrial facilities. Russ Fling wrote a popular book on design of reinforced concrete as well as many technical articles and papers. He and his wife, Dona, collected Oriental rugs and textiles for many years, including most of the pieces in this book.
This book was written by Russell S. Fling and is self-published. You may contact him at:
Editor, Chris Duckworth
Chris is the Director of Publications/Executive Editor at the Columbus Museum of Art. He was instumental in the development of this book.
Book Design, Gene Hite
Photographer, Russell T. Fling
Russ graduated from Ohio State University with a BSEE and MSEE. His career has involved various aspects of imaging from television, print, web, collaborative products and photography. He is an inventor in over 50 patents issued and pending. His considerable skills as a photographer clearly are demonstrated in this lavishly illustrated book. He was honored to be able to work with his father on this project.
Artist, Karen Fling Morrissey
Karen graduated from Capital Univerisity in Columbus and has spent her career as an illustrator, designer, and web designer. She currently works as a creative director at The Conference Exchange (www.confex.com). She was instrumental in both the cover design and created the digital restorations in the book.
Copy Editer, Colleen Romick-Clark
Printer, West-Camp Press, Inc. - Ed Evans
Advisors
Verdat Karadag, Cultural and technical support and local photography
Paul Fling, Computer support and logistics
Professor Burkhard von Robaneu, The Ohio State University
Professor Ned Behrman, The Ohio State University
Left to Right: Professor Burkhard von Robaneu, Professor Ned Behrman, Russell S. Fling, Karen Fling, Colleen Romick-Clark, Russell T. Fling, Chris Duckworth, Ed Evans, Gene Hite